Meeting

Y

unduo in Toronto, Canada

-

By Editor Xinjie, 9 June 2013



Yunduo and Xinjie
This time, I was at
Toronto
in
Canada
, after the 1st night concert where Daolang was holding 2 shows at Avalon Ballroom, Fallsview Casino Resort. Six months ago at
Urumqi
,
China
, Daolang's 8th concert tour there, Yunduo had discreetly disappeared from the arranged meeting, giving me more time to conduct interview with her teacher mentor Daolang & his wife, Xiao Mei. This time she sat down beside me, gracefully allowing me time to talk to her and bathe in her aura fresh from a successful concert ended just a while ago. I could feel my heart warmed to her.



Feizhong

Here at Golden Lotus Restaurant where the post-concert celebration dinner was held,
Beijing
fan Hui Hui and I were the only 2 lucky fans to be seated in this private room with 4 large tables. This became possible when we met Feizhong backstage and he extended to us the invitation to join them. While many amongst those seated were unfamiliar faces that are probably Feizhong's company staff, the
table next to us were the guys and gal of the band group merrily tucking into their food. It was delightful to see them up close, especially when I spotted
Liangzhi
Liangzhi. Liangzhi,
tall with shoulder length curly hair was a lead guitarist, skillful and soulful. This
night, he returned to the concert tour to perform with old friend, Daolang, for the third time.
Daolang was not in sight even when the food arrived, but when Yunduo walked in dressed in a cheerful yellow top with a star crest and golden buttons, she brought with her a breath of fresh air - a young, disciplined lady already so stage-wise and experienced, lovingly groomed by Daolang and Xiao Mei over the years. Tonight, with her long hair painstakingly plaited round her head tied into a pony tail new look, her slim build belies a voice that is just so awesome. Such was a feat that could only be bred in the mountainous villages where the air is fresh and sound could travel the distance. Yunduo is from
Maoxian
,
Sichuan
where the Qiang ethnic group lives. Qiang are mountain dwellers.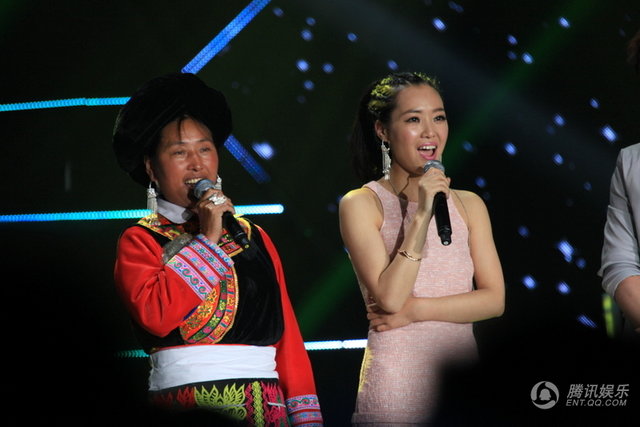 Yunduo & mother. Click to watch video of the launch.
"I used to call out to my parents to come back for their meals at the top of my voice," she

reminisced fondly of those years growing up in the mountains, where getting around was arduous and shouting across the mountain pastures was the most practical way. "My mother sings too," Yunduo smiled proudly, which brings to mind the recent TV recording program that launched her 2nd album 'Stubborn' 《倔强》

.

Her mother came dressed in their native costumes, neat and colorful, together with her father. In the show, her mother sang a short rendition of their Qiang song. Yunduo explained, "Among the mountains, voices can be projected far and wide, hence the louder or higher the pitch, the further it can reach."

Looking at Yunduo as she spoke, I could see that she has matured into a confident, cheerful young woman of 26, many shades brighter than from the first time I met her on the airplane that was flying us – yes, Daolang and his band were on the plane too - to Lijiang, Yunnan from Urumqi, Xinjiang, in 2007. Then she was just 20 years old. When Daolang's 'Thank You' album was released in 2006, we were all stunned when we first heard her high pitch voice in Love Is You Me 《爱是你我》 It was through her own initiative in wanting to sing this track that convinced Daolang to take her in as his student. Such was the impact. I remember asking her then when I moved over to sit by her side about how did it all begun. I remember well too that the approximate 5-hr flight was giving
2007 Lijiang Snow Mountain Music Festival



I met Yunduo, then 20, at the stairway after ...




.....

a

group of us met Daolang...
her a nasty dizzy spell. I also had a photo shot taken with her on a stairway after a group of us met Daolang before he went on the stage where he was participating in the

Lijiang 2007

Snow Mountain Festival. Now, except for the heavier make-up done for performances, Yunduo remains very much unspoiled by all the limelight that she is getting especially since the beginning of this year. It is a trait very much akin to her teacher Daolang's mannerism – sincere, warm, humble, hardworking, 'stubborn'. And she has a nice elegant body shape.
Looking at me, Yunduo warmly recalled, "Xinjie, I've known you some …" and she started to count the years with her fingers and then continued, smiling with a tinge of closeness, "…six years! Yes, six years!" I smiled back and for a moment was lost for words at the realization that we are really no strangers to one another . After all, in between the years I had been able to have pictures taken with her at various celebration dinners after Daolang's concert tour, including the 2008 concert

in Genting Highland

, Malaysia.Tonight, I probed a little more as we talked about her recently released 2nd album - Born To Be Sturbborn 《倔强》which was written by her together with another song ' Keeping My Hair Long For You' 《我为你留的长发》. As in the past, fans get to listen to new songs way before album launch. I heard it and I love it to bits. 《倔强》narrates poignantly a love union that could have but didn't last - all because both characters were young and stubborn.
Part of lyrics :


2nd album 'Stubborn'

《倔强》



我多想抓住你的手不放

I wanted so much to hold on to your hand and not let go

那一刻我们都倔强不原谅

but we were both so sturbbornly unforgiving then
本以为我们会回头望一望

thought we could have turn around to take a glance


背对着流泪怎么也学不会原谅

instead we had our back turned, tears flowing, unyielding
Such touching words, no wonder Feizhong disclosed in his Weibo that Daolang couldn't control his feelings when he heard it over and over … Where did you get your inspiration when writing this song, I asked. Yunduo proceeded to relate how at a young age of 15, as she made her way down the mountain home for the city to work for the first time, she caught a glimpse of her mother with both her hands folded on her forehead pressed against the stone wall, weeping. But stoically she walked on. "I didn't cry," her face stiffened to show how determined and
'stubborn' she was then. She left with a relative who had secured a job for her and it beckoned the young heart. "I'm the eldest, I have a younger brother and a sister who were still schooling, that's why I had wanted very much to go out to earn some money to help ease the family's burden," Yunduo emphasized. However it was about a year or two later as a waitress in a village restaurant where besides serving, she would also entertain guests singing native songs dressed in her Qiang attire. Luck was with her as her singing teacher was Mr Qin Wang Dong who was the one who taught Daolang as a young boy the way to write music, and he is Daolang's cousin。

Mr Qin Wang Dong

秦望东
先生

Mr Qin saw the potential in this young girl. After the Spring Festival of 2005, together with his wife, he brought along Yunduo to Daolang's home in Changji, Urumqi to record an album of songs he wrote for her to sing. And there in Daolang's studio, her path to a music career took its first baby step. She lives with the family - Daolang, Xiao Mei and their two young daughters whom she has grown close to, returning to her mountain home once or twice a year. In 2008, when the earthquake struck Wenchuan , Sichuan on 12 May, Yunduo was still at Xinjiang. She was able to contact her family in the first instance, except her father. When news finally got through that they were all safe after 3 days, only then did the steely will part of her melted, she broke down and cried.


As we spoke and had a mouthful of food now and then, I noticed Yunduo looked physically stressed in that she seemed trying to ease the tension running through her body. "The high notes used much of the stomach muscle and the diaphragm cannot be too relaxed…" she explained, grimacing at times. She sang 《爱是你我》on this lst show, and she was also one of the four back-up singers throughout the evening. I did not have the heart to take up too much of her time especially when she needed the rest after a show. Before Hui Hui and I took our leaves, I asked about Daolang, "He can't be at the casino, right?" I asked light-heartedly, not surprised if he chose to rest at his hotel suite. His daughter Kuang Kuang wasn't here either. "They have room-service for dinner," Yunduo disclosed, "…but even if he drops in to the casino, he would bring along a book and sit in the rest area to read by himself…"
I like Yunduo, for she has gratitude in her heart. During a 2011 TV show, her tribute to Daolang was so sincere that it moved not only the TV hosts, the audience but also Daolang himself. Tears rolled down his cheeks. Five years of tutoring, 2 albums, each track came about through intense mentoring, we the fans are just so fortunate to get to enjoy works of their combined efforts.
That the meeting took place this night and not the next day as planned, meant I got to explore the vicinity of Canada's Niagara Falls that would leave me with memories of a wonderful time for years to come.
Thank you Daolang and Xiao Mei for the opportunity to talk to Yunduo. Thank you Yunduo for the time spent with me and I really hope to visit your hometown Shelter Village

牛尾村

on the mountains one of these days…..Big Hug!